2007
2007
World Diabetes Day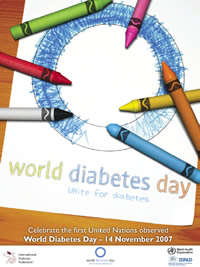 Date: November 14, 2007

Diabetes is becoming more prevalent in Japan and the rest of the world. In light of this situation, on December 20, 2006, the United Nations General Assembly adopted a resolution acknowledging diabetes as a global threat, a resolution that had been requested by the International Diabetes Federation (IDF: about 150 member nations at present). At the same time, the UN also designated November 14 as World Diabetes Day and called for worldwide promotion of educational campaigns that encourage the prevention, treatment, and cure of diabetes.
A variety of events will be held by the UN and in major countries on November 14, 2007. In Japan, the Japan Diabetes Society and the Japan Association for Diabetes Education and Care (JADEC) played a central role in establishing the World Diabetes Day Committee in Japan. The committee will implement educational events, including a symposium commemorating the UN Resolution establishing World Diabetes Day and an event where the Tokyo Tower will be lit up in blue lights, and is calling on the public to help expand the range of these activities.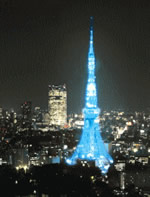 Links
World Diabetes Day
URL: http://www.worlddiabetesday.org/
World Diabetes Day in Japan
URL: http://www.wddj.jp/ (in Japanese only)
50th Anniversary Commemorative Events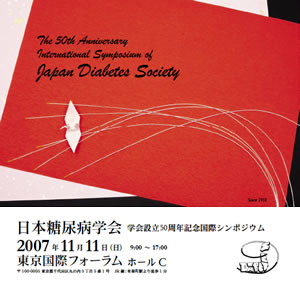 The Japan Diabetes Society is celebrating its 50th anniversary this year. April 2007 marked the half-century milestone since the society was established in April 1958.
The society is planning special commemorative events to celebrate its 50th anniversary. On November 10 and 11, 2007, it will hold a commemorative ceremony and international symposium. About 1,000 members of the Japan Diabetes Society are expected to be in attendance.
22nd Annual Meeting of the Japan Society of Diabetic Complications
Date: October 26–27, 2007
Venue: Tsukuba International Congress Center (Epochal Tsukuba)
Chairman: Nobuhiro Yamada (Metabolism and Endocrinology, Department of Advanced Biomedical Applications, Graduate School of Comprehensive Human Sciences, University of Tsukuba)
URL: http//www.22jsdc.org/ (in Japanese only)
14th Japan-Korea Symposium on Diabetes Mellitus
Date: October 5–6, 2007
Venue: Kyoto International Conference Center*
* Changed from Kyoto Research Park
Address: 422, Iwakura Osagi-cho, Sakyo-ku, Kyoto-shi, Kyoto 606-0001 Japan
Tel: +81-(0)75-705-1234

Chairman: Yutaka Seino (President, Kansai Electric Power Hospital), Ho Young Son (Korea)
Sponsors: Japan Diabetes Society, Japan Association of Diabetes Education and Care (JADEC)
Participation fee: ¥25,000 (registrations made by August 31), ¥30,000 (registrations made after September 1)
* Please visit the website below to register.
Secretariat: Nobuya Inagaki (Secretary General, Diabetes and Clinical Nutrition, Graduate School of Medicine, Kyoto University)
Address: 54 Shogoin Kawara-cho, Sakyo-ku, Kyoto-shi, Kyoto 606-8507 Japan
Tel: +81-(0)75-751-3560
Fax: +81-(0)75-771-6601
URL: http://www.kunix.jp/14th-jk-dmsympo/
Period of acceptance for abstract submissions: late June to August 19 * Please submit at the above website.
Update: October 18, 2012